A printmaking revolution
A history on the development of monoprints and monotypes
Although we don't have a recorded history of the origin of monoprinting, we can trace early stages in which the proofing of intaglio prints can be associated to today's method of producing a monoprint.

One of the early artists who experimented with printing in color, on unusual papers as well as on linen, and with odd horizontal formats to emphasize the horizon, was a Dutch painter and etcher of stark, fantastic landscapes called Hercules Seghers (1589-1638).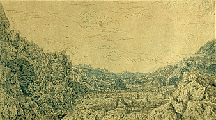 Hercules Seghers
The Enclosed Valley. 1620's. Etching with washes
Most of his images differ widely from impression to impression, and most are preserved in only a few sheets. His eccentric and irregular linework of short strokes is matched by the non-Dutch topography of his subjects. His etchings belong to the most original and impressive experiments in the history of printmaking. Not only did he use inks of different colours and often printed on coloured or dyed paper, but the diversity of individual prints was increased by his adding accents by hand. Seghers' paintings are rare; few are documented, and many forgeries exist. Rembrandt owned several of his paintings and was obviously influenced by his landscapes.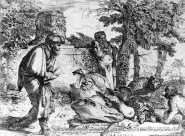 Benedetto Castiglione
Benedetto Castiglione (1616-1670) was another unique artist who etched in a free, spirited, and effective style more than seventy plates, and so skillfully managed the light and shade that many of them have the effect of aquatint. Unlike his Italian contemporaries, he seldom used the graver, but relied on pure line, like Rembrandt and the etchers of the North. Apparently, he seems to be the creator of the first monotype: he applied a heavy film of black or brown ink onto an etching plate and drew white lines with a blunt stick. To create tonal areas he used his fingers, rugs and brushes. The plate was then printed using a press, just like we do today.

William Blake
Pity (color monotype)
1795
Before monotypes became a popular medium, another 150 years passed. William Blake was the one who started making use of monotypes as a medium, becoming one of the most important artists to work with monotypes. He painted with egg tempera onto a millboard which rendered a textural and granular quality of the prints which were sometimes retouched with pen and brush.
In the years succeeding Blake, the printing process we define as "monotype" almost disappeared. The interest in experimental wiping was revived only in the late 1860s when the young impressionists became fascinated with the possibilities of the creative use of inking. The printing experiments seem to have been influenced by early developments of photography with its black and white contrasts and interplay of positive and negative imagery.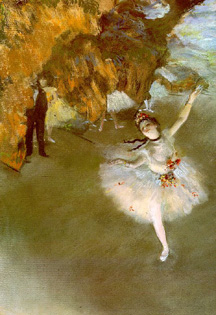 Edgar Degas
The Star, 1876-77, pastel on monotype, Musée d'Orsay, Paris.


Edgar Degas (1834-1917) was introduced to "printed drawings" as they called these works in those days, thanks to his friend Ludovic Lepic who was an experimenter in tonal wiping and who devised the retroussage method of wiping, a way of adding ink to previously wiped plates that produce much richer tones on the prints.
Degas worked and reworked his plates in a variety of ways, wiping color and adding more to the plate, using rags, fingers and brushes, or even adding linework using pastel colors for finishing touches to enhance the coloration.
The late ninteenth century saw a sudden increase in the practice of monotype printing; Camille Pissarro (1830-1903) started producing monotypes himself after watching Degas at work.

Camille Pissarro
Vacherie le soir, c. 1890
Monotype in warm black on wove paper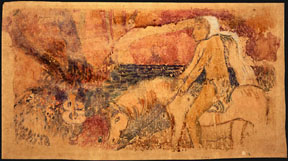 The Pony, Paul Gauguin
c. 1902 - sheet: 32 x 59 cm
gouache monotype

Paul Gauguin (1848-1903) worked independently developing his own unique technique called trace monotype. His method consisted of inking a sheet of paper, laying another sheet over it, and drawing on the fresh paper which received the ink in a linear manner.

Paul Klee (1879-1940) used and developed this method a few years later for his production of intriguing drawings.
Several late nineteenth-century artists used this method extensively; Maurice Prendergast (1859-1924) who was influenced by Japanese prints, described his way of making monotypes to his student and friend Esther (Mrs. Oliver) Williams, in a letter which was to instruct her: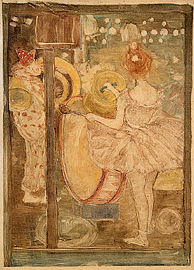 Maurice Prendregast
Circus Band - ca. 1895
color monotype with pencil additions
"Paint on copper in oils, wiping parts to be white. When the picture suits you, place on it Japanese paper and either press in a press or rub with a spoon till it pleases you. Sometimes the second or third plate is the best."

The writer Van Wyck Brooks related an account of Prendergast's procedure, told to him by the artist's brother, Charles: "He could not afford a regular press and his quarters in Huntington Avenue were so cramped that he had no room for a work-bench. So he made his monotypes on the floor, using a large spoon to rub the back of the paper against the plate and thus transfer the paint from the plate to the paper. As he rubbed with the spoon, he would grow more and more excited, lifting up the paper at one of the corners to see what effect the paint was making. The clattering of the big spoon made a great noise on the floor; and soon he and Charles would hear the sound of a broomstick, pounding on the ceiling below. That meant the end of the day's work."

The French Pierre Bonnard (1867-1947) produced hundreds of richly colored monotypes pressing the paper by hand or with a roller on a previously inked and painted glass or metal plate.
Pablo Picasso (1881-1973), Chagall, Miro', Dubuffet, Matisse and many other contemporaty artists produced hundreds of exceptional monotypes.
The beauty of the monotype medium lies in its spontaneity and its combination of printmaking, painting, and drawing mediums.
REFERENCE BOOKS:
---
YOU MIGHT ALSO BE INTERESTED IN: